Bengali Folk Puppeteers Tell the Story of Italian Writer Carlo Collodi's Adventures of Pinocchio | India is blooming
Kolkata: The Adventures of Pinocchio by Italian writer Carlo Collodi is taken from children's books to be retold by the folk artists of Bengal in three different and unique interpretations through puppetry, Pata Chitra and mixed media at Madhusudhan Mancha in Kolkata Saturday.
Organized by FREED in collaboration with the Consulate General of Italy in Kolkata, the show was presented by "The Dolls Theatre", showcasing a synthesis of traditional art and modernity as artists narrated Pinocchio's journey of transformation , from being created as a wooden puppet to a real Human.
The Adventures of Pinocchio is a children's novel by Italian writer Carlo Collodi, written in Pescia. It is about the mischievous adventures of an animated puppet named Pinocchio and his father, a poor woodcarver named Geppetto.
Among the traditional forms of puppetry found in Bengal – rod, glove and string – at the first performance, the audience witnessed traditional puppeteer Rampada Ghoroi maneuvering his Beni or Bene Putul (thumb-manipulated hand puppets, middle and index finger) to tell the story of Pinocchio.
Ghoroi performed the story in a solo act, maneuvering his two-handed glove puppets, singing, narrating, and giving dialogue to the characters all by himself.
Ghoroi, who is originally a resident of Padmatamali village in East Medinipur district, had never heard of Pinocchio though he had acted out children's stories and tales many times.
"My existing puppets weren't suited for this performance. This character looks a bit like a cartoon character with disproportionate features like a long nose and big ears," he said.
"Since this was going to be my first performance in this story, I made the doll with a long nose and big ears, but dressed her in the usual way with bright, shiny clothes and jewelry," a- he added.
Ghoroi said he would like to perform on similar stories where the characters seem different from what puppeteers like him are used to.
"It was my first experience telling the story of a country different from this type of character. It will take some time to soak in and I would love to replicate this performance again if given the opportunity. ", he added.
In another performance, the well-known Pata Chitra artist, Manimala Chitrakar, told the story in the traditional form of the Medinipur region of Bengal in eastern India, using a long scroll with scenes of history painted in the form of frames, accompanied by a song.
The 'patuas', as these artists are called using 'pat' or a long piece of cloth to sequence the various events of the tale, tell the story in the form of a song, which they write and compose, depending on the audience. .
For Manimala too, it was the first time Pinocchio was presented in this traditional art form, which she said was an enjoyable experience for her.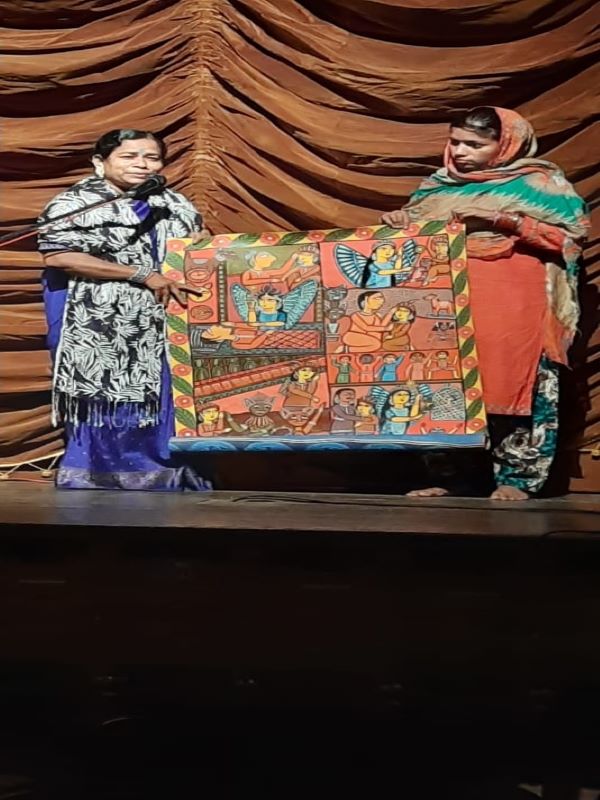 So far, she has mostly told mythological and religious stories and used this medium to convey social messages through government projects.
"It was a whole new opportunity for me. Since the story of Pinocchio has a message for children, I wrote the song which is aimed at school children, to take the example of Pinocchio and not fall into the bad stuff," she explained.
In the final presentation, The Dolls Theater performed the story using different types of puppets, including hand puppets and string puppets, to play most of the roles while actors played some of the characters. Stage props, lighting, background voice artists as well as songs allowed for a more elaborate explanation of the tale than previous mediums.
Sudip Gupta of Dolls Theater noted that puppetry can be used as a medium to reach the masses, especially children, and many countries around the world use it to convey messages apart from storytelling and entertainment.
"However, no other country can boast of the diversity of puppet traditions like India where each state has its own type of puppets. Puppetry in India is very much alive and a lot of work is done by contemporary puppeteers like us , which use traditional forms as well as other media to better capture the imagination of viewers," he said.
Italian Consul General Dr Gianluca Rubagotti said the program was an effort to bring together the centuries-old cultural elements of Italy and India and part of wider Indo-Italian collaborative plans with artists local.
Sharing his take on the performances, he said, "It was very enjoyable. I also saw the rehearsals and witnessed the hard work and passion put into making these shows. From the outside these depictions look very simple but I can tell you how much hard work goes behind them."
"The idea was to tell a story, of Italian origin but carrying a universal message, through local artists, in this case puppeteers and Pata Chitra. We gave them the inspiration, which brought to life through art forms typical of this part of the world, but again have a broader appeal," said Rubagotti, explaining the concept behind the project.
A good way to create a fusion is to intertwine the two cultures, he said, adding that the Italian consulate has undertaken many such projects across film, theatre, visual arts, literature, etc