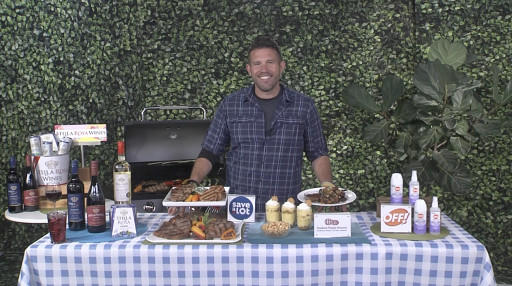 Chef David Olson shares his grilling secrets on TipsOnTV
LiveFireRepublic Blog Founder and Cooking Personality Shares the Thrill of the Grill
ATLANTA – July 7, 2022 – (Newswire.com)
Grill Master and Super Chef David Olson is the founder of a very famous blog called livefirerepublic which offers cooking tips and recipes. This super chef shares the recipe for creating the perfect summer party.
START A BARBECUE IN THE GARDEN
There's nothing like delicious grilled food with the right drink. This summer, Stellabrate with America's favorite semi-sweet, semi-sparkling Italian wine, Stella Rosa Wines! Grab a bottle of Stella Rosa Blueberry or a bottle of food's best friend, Stella Rosa Royale. Whether alcohol-free or not, Stella Rosa is made with real fruit flavors, naturally gluten-free, vegan, low-calorie, and now comes in a can. For more information, visit stellarosawines.com.
TIP FOR GOOD GRIDS
Chef Olson's #1 recommendation is to establish a great relationship with the local meat cutter. Backyard barbecues are all about meat and Save A Lot is the one stop shop for all summer grilling needs. Some of David's favorites include their boneless, boneless T-bones, ribeye, and pork chops. Save A Lot has in-store meat cutters that can customize any cut. In fact, Save A Lot is the go-to for all groceries and grilling essentials. With their meat freshly cut in store, everyone will be sure to find the perfect cut. For more information, visit savealot.com.
A MUST HAVE AT ANY GARDEN GRILLING PARTY
The average person will eat nearly 3,000 PB&J sandwiches in their lifetime. Peanut Butter is a classic American flavor that's perfect for outdoor cooking in new and surprising ways. Turn classic peanut butter and jelly into these perfectly sticky pastes Grilled PB&J Wings which will have everyone licking their fingers. Or try a Banana brown butter pudding, an update of the classic Banana Pudding. Roasted, salted or seasoned, peanuts are always welcome as a crunchy and tasty snack at any barbecue. For more information, visit Peanutbutterlovers.com.
MAKE SURE GUESTS ARE COMFORTABLE
Nothing will ruin a barbecue faster than mosquitoes and ticks. SC Johnson and OFF! created this cool website called OFFCast that actually forecasts mosquito activity in your area for up to seven days. It can be counted on because it is based on more than 60 years of research at the SC Johnson Center for Insect Science for Family and Health. OFFcast makes sure everyone knows how to plan a barbecue to ensure it's not ruined by uninvited guests. For more information, visit off.com/en/mosquitoforecast.
More details: [email protected]
press release service
by
Newswire.com
Primary source:

Chef David Olson shares his grilling secrets on TipsOnTV