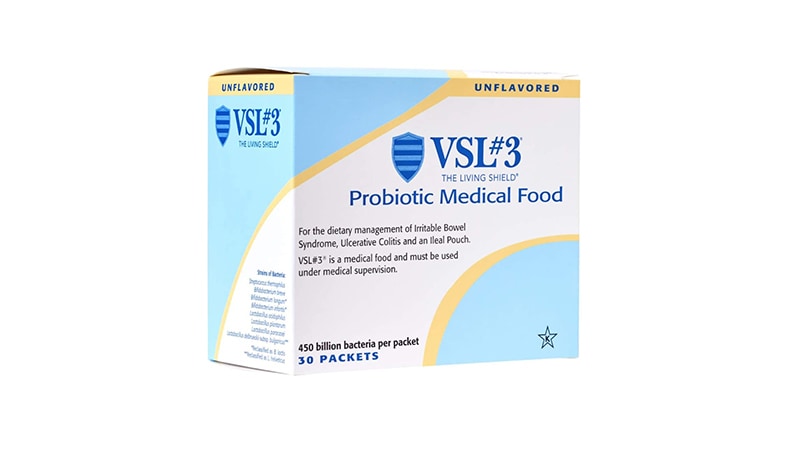 Gastro Journal publishes statements of concern on 40 articles on probiotics
A gastroenterology journal has published statements of concern for forty articles about a probiotic formulation that has been at the center of a long legal saga in the United States and Europe.
The articles appeared in the Journal of Crohn's Disease and Colitis, the official journal of the European Crohn's and Colitis Organization (ECCO) and date back to 2007. All mention a proprietary formulation of probiotics – and therein lies the story.
The formulation in question was developed decades ago by an Italian researcher named Claudio De Simone. Until 2016, the formulation was sold in the United States by Sigma-Tau as VSL #3 – and was referred to as such in numerous journal articles in the gastroenterology literature. In Europe and Canada, Ferring Corp. was allowed to sell VSL#3, although it stopped doing so a few years ago (more on that in a moment).
But De Simone fell out with Sigma-Tau and its parent company and partnered with another company, ExeGI. And he brought VSL#3, which he claims the rights to, with him.
Sigma-Tau (which had merged with another firm to become Alfasigma) continued to sell a version of the formulation as VSL#3. De Simone and ExeGI objected and sued the company for false advertising. Among the claims, Alfasigma cited clinical studies on VSL#3 without noting that the product used in those trials was not identical to the one it currently sells.
In 2018, a federal court decision in Maryland agreed, awarding De Simone nearly $20 million in damages and other costs in the case — a judgment that was upheld on appeal. The ruling also prohibited Alfasigma from citing trials of the De Simone formulation as if it were its own product.
At this point, an author's note is in order. As editor of Gastroenterology & Endoscopy News, one of us (AM) published a review article on probiotics that included several studies on VSL#3. This prompted a threatening letter from an ExeGI lawyer demanding that we:
and the authors of the article disclose to it all communications and other information sufficient to determine the role of Alfasigma, or its licensor VSL Pharmaceuticals, Inc., or any person or entity acting in concert or in collaboration with them , which may have influenced the preparation of the Article. Additionally, ExeGi asks the journal to post an update to acknowledge that the formulation studied as VSL#3 is now only available under the Visbiome brand, and that there are no trials humans published in Pouchitis, UC or HE using the current VSL# 3 produced. We appreciate that the authors and editors of the review want to ensure that physicians and patients receive accurate scientific information. We note the importance the journal editor places on scientific accuracy, as evidenced by their publication of the blog www.retractionwatch.com, which does an excellent job of highlighting clinical retractions that periodically take place.
Following the 2018 US ruling, a fair trade NGO in Europe filed its own lawsuits against Ferring and ECCO. De Simone, a witness in the cases but not a party to them, says Ferring has settled down. However, De Simone accused ECCO of continuing to ignore a decision that would require it to note the difference between the original formulation of the probiotic and other versions.
According to De Simone, the company has so far been fined several times in this case.
the Journal of Crohn's Disease and Colitis has now released the next opinion:
The probiotic that has been referred to as VSL #3 in Journal of Crohn's and Colitis (JCC) publications is the subject of several ongoing disputes in different countries. Some of these disputes concern the publications of the JCC. Applicants claim that the formulation of VSL#3 that was evaluated in the studies cited in JCC is different from the formulation of VSL#3 that is currently available on the market. As legal litigation and scientific reviews on this issue are still ongoing, readers of the Journal of Crohn's and Colitis should be aware that the formulation of VSL#3 currently available may not be the same as VSL#3 which has been scientifically evaluated in studies that are the subject of this article or referred to in this article. Readers are invited to read the letter to the editor from the ECCO Board of Directors on this subject https://doi.org/10.1093/ecco-jcc/jjab225.
This letter declares, in part:
Although legal litigation and scientific reviews on this issue are still ongoing, ECCO was forced by an interim court injunction not to refer to this probiotic without a clarifying note. Therefore, ECCO would like to draw readers' attention to this issue. Readers should be aware that the formulation of VSL#3 currently available may not be the same as that of VSL#3 that has been scientifically evaluated in studies that are the subject of JCC articles or referenced in articles. of the JCC.
ECCO has made an effort to compile a list of items affected by this issue.1–40 However, this list should not be considered exhaustive and complete.
Even before this temporary injunction was issued, ECCO had already moved forward in the most recent ECCO Topical Reviews [ECCO Topical Review: Complementary Medicine and Psychotherapy in IBD, and ECCO Topical Review: Refractory Inflammatory Bowel Disease] to a generic description of the strain mix contained in this probiotic, as follows: "A multi-strain probiotic containing eight different probiotics [Bifidobacterium breve, Bifidobacterium longum, Bifidobacterium infantis, Lactobacillus acidophilus, Lactobacillus plantarum, Lactobacillus paracasei, Lactobacillus bulgaricus, Streptococcus thermophilus].
The newspaper editor did not immediately respond to a request for comment.
De Simone says he is "not at all happy" with the expressions of concern and thinks the newspaper's description of the probiotic blend is "fraudulent" and "even worse" than the status quo.