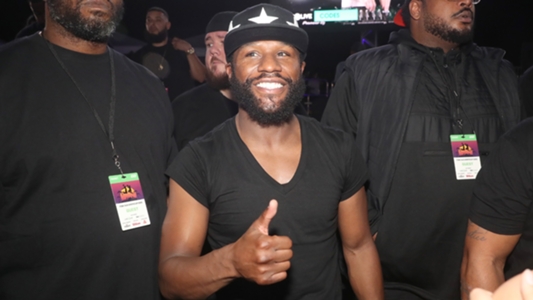 Is Floyd Mayweather back in Dubai to fight again?
The former world champion looks set for another fight, according to reports.
Floyd Mayweather appears set to return to the ring under unusual circumstances in May, according to reports.
The 45-year-old American retired from professional boxing in 2017 with a huge PPV fight against Conor McGregor, going 50-0 before getting into some big money-making exhibition bouts.
After McGregor's final, he fought in Tokyo against Tenshin Nasukawa on New Year's Eve, picking up an easy victory, and in the summer of last year he faced Logan Paul, clearly the better fighter.
Now he looks set to return to the limelight with a fight at a Dubai helicopter landing pad at the Burj Al Arab hotel, in this TMZ reports is the launch of 'The Global Titans Fight Series'.
He's ready to fight Don Moore, undefeated in 19 fights and with 12 knockouts to his credit. The fight will take place on May 14 and will be held over eight rounds.
The card is expected to feature MMA legend Anderson Silva, who fought in June 2021 to defeat Julio Cesar Chavez, before knocking out Tito Ortiz. He will face Bruno Machado.
There is also Badou Jack, according to the story.
While there's little certainty about the exact details of the event, or that the fight will even go as planned, Mayweather has reportedly been planning something similar since he finished his fight with Paul.
The multi-division champion had said he was unlikely to return to the ring for an exhibition but was soon linked with a fight in Dubai.