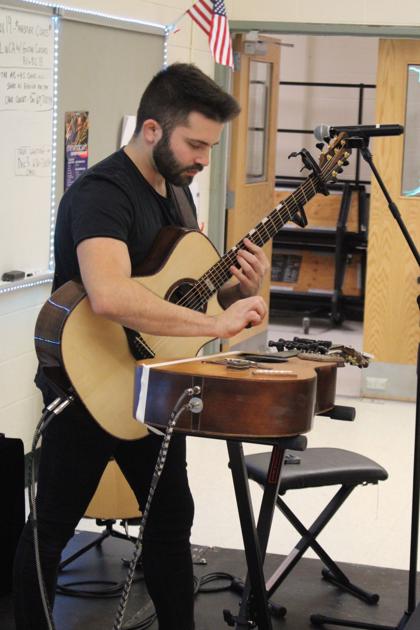 Italian guitarist wows students | Local News
MILTON – Heads were jumping, toes tapping and phones recording. It's not every day that students are so moved in a classroom, but Friday showed the power of music and the brilliance of a world-class musician.
Guitarist Luca Stricagnoli, from Italy, performed for the students of Eric Bergmueller's masterclass on Friday morning at Milton Area High School. His touching playing brought smiles to the students, especially when the guitarist played his version of the Guns' N Roses classic, "Sweet Child O Mine".
An original composition featured Stricagnoli placing the acoustic guitar in his lap as he played the neck almost as if it were a steel guitar, while also incorporating percussion on the strings and neck, as well as on the body of the guitar.
The result of Sticagnoli, and the single guitar, was something that could have included multiple musicians.
Stricagnoli, who plays acoustic guitar, incorporates a unique finger style into his playing, earning the 29-year-old world traveler the label's virtuoso. He's featured in Guitar World magazine – among dozens of others – and his videos have garnered over 100 million views on YouTube.
"It's beyond words how lucky we are to have him here," Bergmueller said. "For me, it's not just how good he is, but he talked about how he composes… From the simplest concept, and just build and build.
"This is what a master class for children should be."
Stricagnoli told the students that he hopes they can develop their own creativity on the guitar.
"Hope you can be a little inspired today," he said. "If you have any ideas, I hope you can develop your own creativity, not only using my techniques, but developing your own style."
Friday's performance was just one of 21 workshops at area schools in which Stricagnoli participated thanks to the generosity of the West Branch Arts Consortium and, in part, the Degenstein Foundation. Warrior Run and Selinsgrove were two of the many schools in the area to welcome Stricagnoli into their classrooms.
"He played for third and fourth graders, fifth and sixth graders and high school students," Consortium President Dave Morgan said.
Some performances were intended for small classes, while others were intended for larger groups. Stricagnoli spent time with students whenever he had the chance, including Fridays, when he answered questions and signed phones and more.
"He's so graceful," Bergmueller said. "It's just … wow."
The most recent version of Stricagnoli is "What If?" presents the guitarist exploring even more approaches to his guitar playing. He learned the instrument at the age of 10 and studied classical guitar until the age of 16.
He's on tour with the album and is scheduled to perform at the Gordon Center for the Performing Arts tonight in Owings Mills, Maryland.